Monday, August 18, 2014 | 48
I really like crowd-funding. Not only does it serve as a litmus test to gauge the viability of ideas, it's also a platform, like Honey Boo Boo, where we get to watch people perpetually make the same mistakes. The first generation of Kickstarter games were met with incredible enthusiasm and, more importantly, cash money. Since then people have discovered the truth about game production:
Talk is cheap. As fuck.
If all it takes to get 300,000 dollars on Kickstarter is a few commissioned digital paintings, neckbeard videos, and an interesting idea about how to
properly copy MineCraft
, sign me the hell up. I have ideas for days. What I don't have is a team of awkward drones to do exactly as I say in a timely fashion. Also, great ideas don't have to be technologically plausible. There is a disconnect.
Once the game is funded, particularly brazen developers continue taking money in order to reach arbitrary 'stretch goals'. For those of you who are unfamiliar, a 'stretch goal' is an improvement the developer will add to the game if you pay the ransom.
"If you don't give us more money, we will make the game shittier."
If your game requires certain features to be good, why wouldn't you ask for the amount of money required to make the 'good' version? Also, how they quantify the cost of typically minor features is preposterous. As the total funding increases, the stretch goal cost increases exponentially, but the tacked on stretch goals typically become less impressive and more arbitrary.
When the campaign ends successfully, the game gets made (if it isn't deep into development already). This sends a developer into a money-lust where they set up a donations page for more ridiculous and game breaking awards. This is when
everything
goes to
shit
, and these companies start taking pay to win money. The refundable phase is over, and if you donated and don't believe in buying success in a game, you're totally fucked.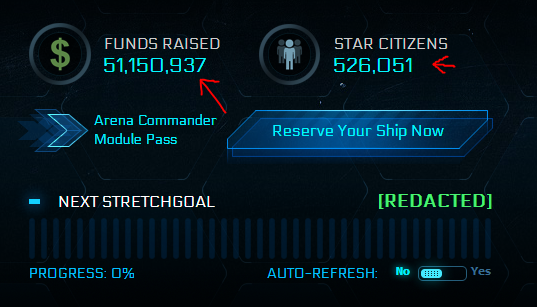 The fuck?
As long as they're makin' fat stacks, why would they even release the game? With the exception of some token benchmarks, we can't know for certain that real progress is even being made. We also can't know for certain that the game wasn't done before the Kickstarter even launched. Think about that. Indie games don't cost $50,000,000, so what you're really paying for is mansions.
Additionally, keep in mind that games make their money in box sales regardless of funding. No publishers take a cut, so that 50+ mil is
pure. fucking. profit.
Entrepreneurship is a concept based on risk, but if you have no-strings funding you incur zero risk. Risk is important. Risk makes you work hard. Risk is a strategy game about global domination.
So you funded Star Citizen? Good luck.