Thursday, August 7, 2014 | 39
There may be no more polarizing topic about arm-chair MMORPG design than Player versus Player (PvP) combat. PvP system designs range from non-stop to null, and everyone feels like they have a legitimate handle on what system is best suited to their needs.
They're all wrong.
There are really only two PvP systems I believe can be functional, but the best way to show what works is by first explaining why the alternatives don't. Take notes because you will be tested.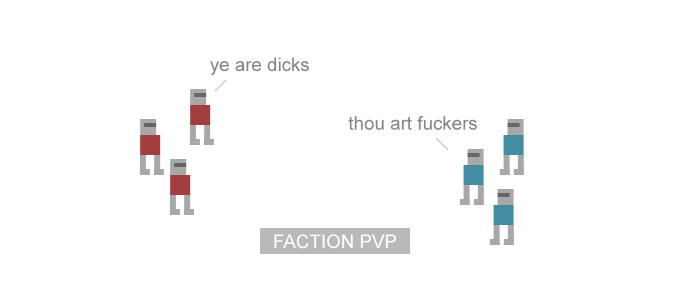 The main issue with splitting up the entire population of a MMORPG into opposing groups is... you are splitting your entire population into... opposing groups. This cuts all potential for meaningful conflict by the number of players you're forced to team-up with and opens up loopholes for pointless non-combat griefing. Faction PvP can be broken up even further into two separate categories; both of which are broken.
Examples: (WoW, SWTOR, Darkfall, Planetside 2)
Softcore Faction PvP, or the "WoW model", can be defined as any multi-sided pvp where the combatants incur no risk or reward outside of hurting the other players' feelings. This is the type of system that created the modern MMO psychopath. The problem here is that players who enjoy griefing are the ones with the greatest reward for victory, while all other players are conditioned to launch pre-emptive strikes in order to actually enjoy (or even play) the game. This system sucks.
Examples: (WoW, SWTOR, Planetside 2, Rift)
Hardcore Faction PvP is a more reasonable alternative where players fight for a purpose. The goal here is to pillage and conquer. Once victory is achieved the goal is to get home before someone reacquires your spoils of war. Factions, however, tend to create zergs. Large groups of roving PK's tend to be less inhibited by the risk of losing because losing is so rare. I'm including games like Darkfall Online in this list because, despite allowing for relatively open PvP, the cost of building a home and conquest systems promote super-clans, which are basically factions. Lone-wolf and new player archetypes suffer the most in a system like this because one-on-one combat is incredibly rare. This system sucks.
Examples: (Darkfall, Sort of Shadowbane)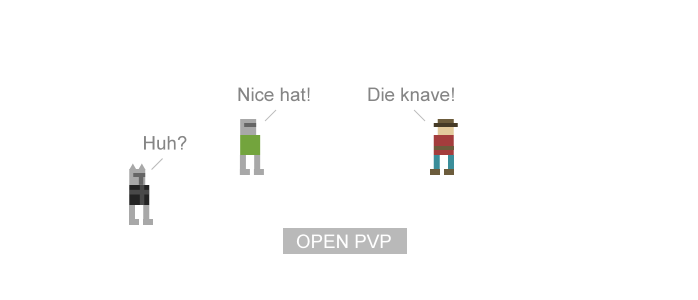 Although Open PvP could also be theoretically split into hardcore and softcore, the drawbacks would be similar, so let's focus on traditional "UO-Model" PvP. In this model, players can construct their own ethics systems on combat with other players. If someone wrongs you, or has things you find appealing, you make a choice to whether the reward outweighs the risks. Because this isn't a faction model, additional risk is incurred because any passers-by can make a judgement call on whether your actions are justified and leap into the fray. Rampant PvP is typically curbed by a karma system of some type, and lawful people far outnumber the unlawful. Player-run guilds and factions could exist, but it's left in the hands of the players to govern themselves.
Ideal open-world games would also avoid features that are completely inaccessable to individual players because providing incentives for zerging can tip an "Open PvP" game into the evil faction realm, which immediately destroys the mass-appeal. The focus of this design should be to facilitate players, not to limit them.
This is my favorite type of PvP system because it appeals to a broad audience, and not just sociopaths. While this system may not provide as much PvP, it will always be more meaningful and entertaining than its faction counterparts due to its expanded and variable nature. Naturally, some people who don't believe in competition will prefer the last style of PvP combat.
Examples: (Classic UO, Mortal Online, EvE Online is borderline)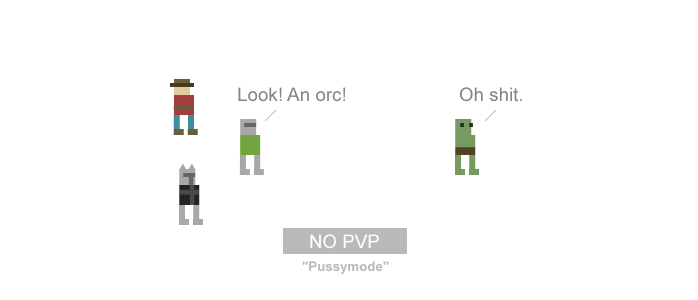 Like it or not, this is the only reasonable alternative to Open PvP. Games with no world pvp are much friendlier to 10 year olds who just want to play whack-an-orc with their friends. Battlegrounds were created in order to provide some token competition for these types of games, but they're largely unnecessary as PvP in these games is merely a series of repeatable actions with paper-rock-scissors balance.
Examples: (Hello Kitty Online, Any game with PvE servers)
It takes all types...
There are other distinctions that could be drawn, such as safe-zone PvP, Conquest PvP, etc, but these games mostly apply to these categories in some way. Open PvP gets an extremely bad wrap from people who only think about it in passing, but this ignorance only further perpetuates that gamers need to be separated into groups. That doesn't work in the real world, and it CERTAINLY doesn't work in gaming... After all:
Keep in mind that PvP is only one feature of a MMORPG, so games can still be terrible even with solid PvP models. Complain below: