Wednesday, April 16, 2014 | 54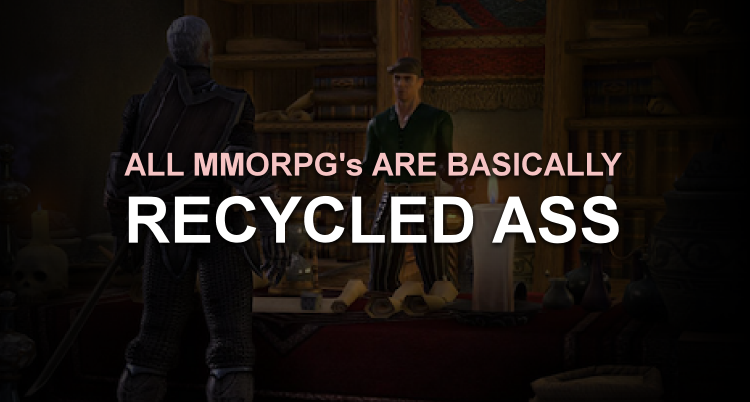 MMO isn't really a genre.
Bear with me. When I used to play Red Alert over dial-up with friends, nobody had the audacity to suggest that Command&Conquer and Super Bomberman were the same genre because they both had multi-player components. Why then are most MMORPG's nearly indistinguishable in concept outside of the multiplayer model?
We live in an incredible time where information and ideas flow freely between individuals across the globe, and the figurative incarnation of that in gaming is the massively multi-player game. The concept itself is the pinnacle of innovation in gaming. Assuming you agree with any of this, why are MMO's where ideas go to die? I used to mock companies like
Zynga
that shamelessly harvest money on recycled ideas, but is the next Triple-A MMO really any different? It's pathetic. It's so pathetic that gamers are donating
millions of dollars
to campaigns that claim that they are going to do something different. I say claim, because they have no real obligation to not use that money on mansions.
Holy shit guys.
Star Citizen is at 43,000,000 USD and counting. That sounds like a whole lot of money to develop a MMORPG, but as you might recall a certain
fucking terrible piece of shit
cost only 200,000,000 to make, and had virtually no decipherable innovation over a 10 year old World of Warcraft. According to that ROI model, Star Citizen probably needs you to turn your pockets out a little more, but we all know most of that 200mil went towards fancy trailers and feeding EA executives' fancy show-dogs.
I'm not falling for that shit. Millionaires begging for money after they meet their original
Kickstarter goals
seems a whole lot like shameless exploitation. 500,000 USD was enough to prove interest in the project, so why do you keep milking pitiful nerds? If you actually needed that much cash (which is possible), why not partner with a publisher like Obsidian did to finish
Pillars of Eternity
? Publishers would love to flex their finances for a project that has already been theoretically proven by massive support, and at a certain point you can't hide behind the 'creative control' bullshit.
As a side-note, am I the only one curious about how 50% of all games published on Kickstarter are built in Unity? I mean, I could make a game in RPGMaker and publish it on Kickstarter, but that doesn't mean I should. Then again, To the Moon was scary-good. Hm.
Emulators are gaining steam.
SWGEmu
and
SBEmu
are generating massive interest, and developers should be paying attention. If anyone is willing to play games that are a decade behind in UI and control standards simply by the merit of their ideas, it makes sense that there would be consumer interest in any game that attempts to break traditional molds or at the very least copying old molds. Sadly, projects that have attempted to fill this gap have executed
so poorly
, it sets a premise in the eyes of observers that the ideas are bad, and not the amateur developers themselves. Lets call a spade a spade.
Ultima Online emulation is likely more popular than the game itself, and all the emulated servers are trying to do is roll back all the bullshit that makes current-gen UO as innocuous as possible. Are we all forgetting that MMORPG's are games, and not hand-holding simulators? Games are supposed to be fun, and challenges are fun.
Final notes:
I apologize to people who have been checking the site in previous months. I haven't had the time or the will to attempt playing anything. Hopefully writing this has made me angry enough to press on to weekly updates again. If you want my opinion on anything in particular, ask me in the comments section or on twitter.