Wednesday, December 4, 2013 | 27
Achievements are fucking pointless.
I'm not entirely sure where the phenominon began, specificially, but I have a few guesses that I would like to express in a stupid and pointless way.

It's getting out of hand.
Have gamers become so needy that we require constant feedback that what we're doing was in fact the object of the game? Do we need our hands to be held to this degree? Does anyone actually feel a sense of accomplishment because they petted an absurd amount of goats in World of Warcraft? These are questions that a few people may be asking, but, sadly, not the majority of the self-esteem generation.
In spite of the fact that the notifications destroy any level of immersion you may be experiencing in a game, can you imagine how tedious it would be if classic games had achievements interrupting your concentration? What would that look like? MYSTERY SOLVED!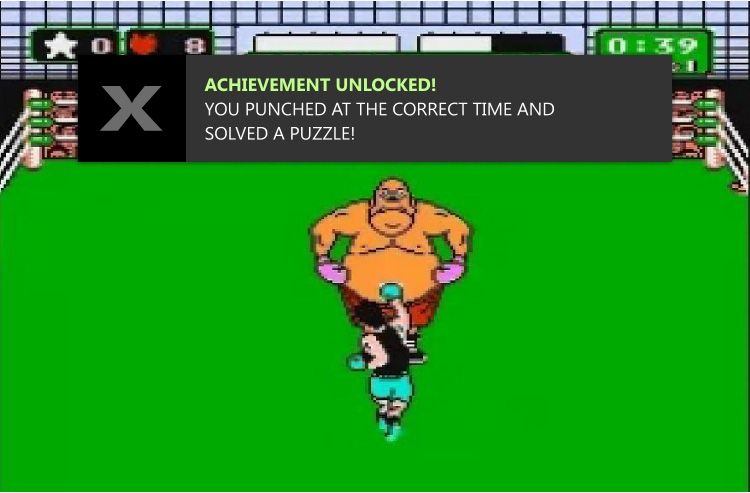 What's worse?
It's bad enough that games fornicate you with praise, but many games now give you achievements for losing in spectacular fashion. This is why China is winning right now. Kids go through all levels of schooling without being subjected to any adverse stimulus, and now when they go home they get praised by their XBox for not going outside.
What could go wrong?

We're lucky there isn't some polarizing evil in the world trying to take away our cushy lifestyle because if there was they would face no resistance. Guess what kiddos! Soon your parents will all be dead and you'll have to figure out this life thing for yourself. Your government won't be able to protect you because they'll be broke from giving free money to bully victims or some other bullshit cause, and Ron Paul isn't going to live forever either (despite overwhelming evidence to the contrary).
If you get an achievement and feel any warm fuzzy feeling, you should probably pull the plug on your computer and go do something in the real world.
Valve is hilarious.
You PC gamers may have noticed some achievements outside of games, but by far my favorite is the Achievements you unlock for buying products from a retailer. I'm sure there is at least a handful of people who bought everything from the Steam Summer Sale because it unlocked an achievement, but those people are the WORST.
Here's how money works:
Money has a value to individuals. Products have a value to individuals. When a product has a value to you that is higher than the amount of money requested, you exchange it. The seller now has money that they valued more than the product that they sold, and a buyer has a product that they value. This is how wealth is multiplied (sort of). If you purchase a product you don't want so an image pops up, you are essentially donating your money to a company. This is called charity. Valve co-founder Gabe Newell is worth over 1.5 billion dollars. He doesn't need your charity.
Woah, tangent.