Friday, August 16, 2013 | 10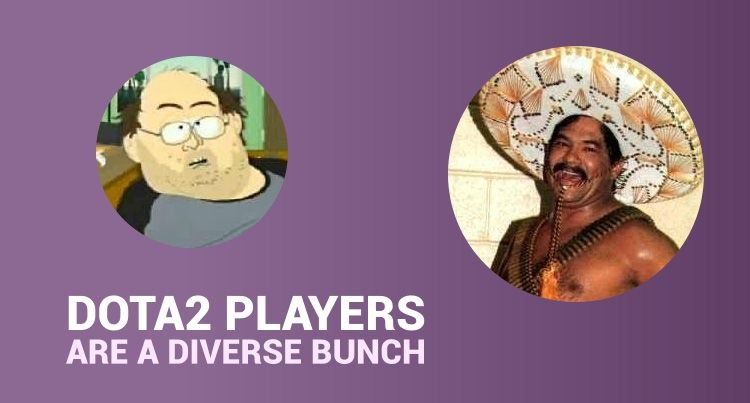 Despite being free-to-play, everyone who plays DOTA2 is a rich, handsome, intelligent, successful entrepreneur who has excellent and unselfish sexual intercourse with their model wife. I know this because they openly discuss each of these attributes with complete strangers who they'll never speak to again. Why would they lie? These qualifications aside, I've realized that on North American servers, there are really only two types of people who are actively participating in the most serious of games in the most serious of genres. They are:
Pros
Pros in DOTA2 immediately start talking in voice communication with their naturally gruff and manly voice about how they hope you're not a 'faggot' and buy wards and the courier. You can tell they're cool because they're always speaking over loud dub-step soundtracks that come on when they activate their push-to-talk key. Undoubtedly the pro claims to have played in several DOTA2 tournaments and spends his leisure time watching pro matches on Twitch.
How to silence the Pro:
The younger generations are extremely hostile, but also non-confrontational, so be as direct as possible when describing the nature of your disdain for the pros you play with. They haven't ever been criticized at home or in school, due to our anti-bullying culture, so they will completely stop talking and probably mute you so they don't need to be subjected to your alien perspective anymore.
While it may be tedious to play with 'pros', they're really what you hope for when matchmaking since the alternative won't understand anything you're talking about.
Mexicans
The second type of DOTA2 player on NA servers are Mexicans. They disconnect constantly and ask you questions in random languages as if you're supposed to understand them. They may be speaking Russian or Portuguese, but it wouldn't make sense for Russians to queue on servers so far away, so rest assured, they're all just clever multi-lingual Mexicans. When you ask why Mexicans are on NA servers, they undoubtedly will respond saying that they're from Quebec, or wherever, but they aren't. They're just liars and should be scolded and reported for feeding. Make sure to alert the opposition about your ethnic barriers so they can claim to sympathize as they stomp your awful team into the ground.
Their main tactic is feeding the opposition relentlessly as they yell their weird Latin nonsense into the microphone. Occasionally one of them will have looked up DOTA2 related English phrases on the web and call you 'nob' or claim that, 'you are stupid noobz', attepmting to parrot things they've seen pros say. In the end there is only one way to enjoy DOTA2 when playing with this demographic. Quit.
Ultimately, everyone who plays pub games of DOTA2 is awful.