Thursday, March 14, 2013 | 15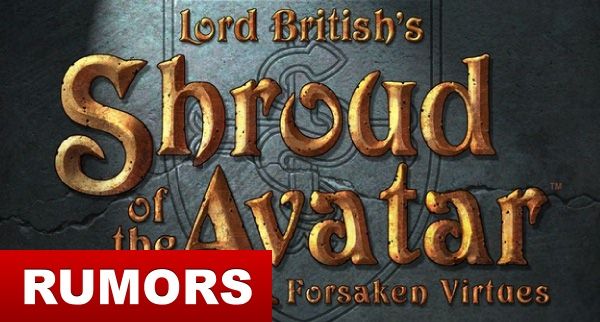 When Richard Garriott Says, "jump"...
We in the veteran MMORPG community ask how high he is. The genius behind the legendary Ultima series, as well as the father of MMORPGs recently announced that his company Portalarium would be releasing his "Ultimate RPG". It's called Shroud of the Avatar: Forsaken Virtues, and it will most likely be amazing. I hit the rumor mill to see what I could find out about this much anticipated title!
The Rumors
For the first time in a RPG, your character can eat grass if he wants to... but he won't want to... ever.
Most objects in SotA can be fully interacted with, but will instantly kill you if you try the wrong thing.
Your character will have a beard.
Morgan Freeman will play the voice of your enchanted coffee mug companion and narrator.
Lord British will make multiple appearances in the game, taking credit for quests you complete. His Charisma score is always 10 points higher than yours.
Chuckles crosses over from the Ultima series to sell you a broken down Ford Bronco. It can be smelted into 100 ingots that can be crafted into anything you want... if what you want is a typical longsword.
All voiced dialogue will focus on how going into space is ultimate measure of a man.
The Avatar in the game isn't you, but instead a fully functional surrogate Navi from the movie Avatar. His shroud is quite revealing because it was made for human-sized people.
You will be allowed to purchase one duck, but he is a real asshole.
The majority of the game will take place underground... on the Moon.
Borrowing from current successful titles, the game will be released without quests, enemies, customization, multiplayer, shrouds, avatars, music, and graphics. These things can be purchased as needed via DLC. ONLY PAY FOR WHAT YOU WANT!!!
All characters will be based on people on the development team. Most quests will involve insulin retrieval.
Staying true to naming conventions, each subsequent Portalarium game will include at least one colon to give the impression that they're all part of a series.
The story is a loose adaptation of the novel "Push", by Sapphire.
But it will still probably be great.
In the game industry, there are trend-setters and copycats. I suspect that Lord British will once again prove that he holds a membership in the former, despite how lackluster preliminary videos and screenshots are. I guess we'll see. If you're interested in supporting the game, it's being published for a paltry sum of 1,000,000 USD on Kickstarter.
Check it out.
If you're unfamiliar with the Ultima series, check out Spoony's
Ultima Retrospective
. This guy cracks me up like 70% of the time.