Tuesday, December 4, 2012 | 73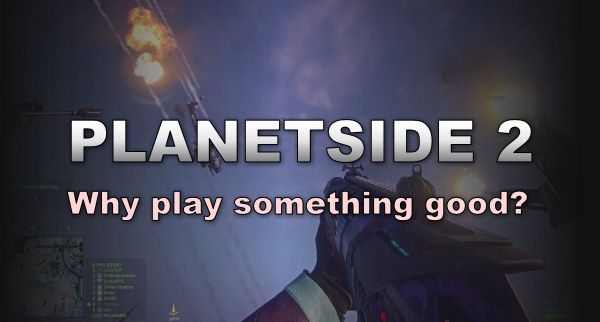 The future looks pretty bleak.
The narrative that Planetside 2 paints for the war of the future is most akin to a depressing perpetual hamster wheel that nobody ever gets off. With no winning and no losing, this is the FPS of the participation trophy generation. Have I got your attention? Who cares, keep reading anyway.
First Impressions:
The game doesn't really hold up by traditional competitive shooter standards. The game isn't ugly, but the way it "feels" is off when you compare it to popular First Person Shooters like Battlefield, Call of Duty, or Halo. This can be justified as a product of the scale, but those were the excuses they used when Planetside 1 failed, and they claimed to have those problems fixed this time around. Obviously, I don't
believe
much of what developers say, but I had anticipated the game being fundamentally entertaining. It isn't.
Finding an alternative to my views on the traditional review sites is quite easy, but I can only assume that those people either have never played a first person shooter before, or they're being paid money by advertisers to lie about an awful game.
Massive World, Prototypical Experience
The glaring problem with this game's core concept is that you're playing a competitive genre without the ability to decisively win or lose. Nothing really feels consequential. In a FPS, you've always got time to get up and grab a drink to celebrate the win, or lament over the loss, but in Planetside, you clear a base and move on to the next base without ever feeling it. None of it ever really matters because when you log back in the next time, in all likelihood your progress will have been wiped out and you're stuck clearing the same thing again.
I'm really failing to see how this method is better than the "maps" method that most competitive shooters use. This isn't Tee-Ball, and we're not 6. I want to win or lose, not be stuck in some repetitive meat-grinder.
Not Really for Anyone
Have you ever been playing Darkfall, Mortal, or Shadowbane and wondered, "how would this game be if nothing mattered at all?" Yeah, I didn't think so. The appeal of this game is strictly shooter enthusiasts who don't want a polished experience and want the game to slow down because shooting someone in the head with a sniper rifle shouldn't kill them the first two times. I contend that in a perfect world, these people don't exist.
The F2P Nail in the Coffin
Aren't you sick of game developers promoting this gamer welfare society that requires shitty/rich players to pay more/be better so you don't have to? This is the worst kind of game to be F2P because you're literally only purchasing items that affect the competitive balance of the game. It's Pay to Win by definition, though some people can't be helped regardless of how much money they spend.
Breakdown:
(8) At least half decent
(3) Halo on downers
(5) It's a sequel...
(10) Nope
(5) Faction Based
(-10) Fucking Nothing
(-1,000,000) SOE Made an Enemy
Final Score: Dumpster food
If you haven't checked it out yet, I'm doing a comic because I get bored easily. The most recent post is relevant to this article:
The I Hate MMORPGs Comic