Monday, December 24, 2012 | 29
Age of Wushu is exactly what it says it is.
If the "Crouching Tiger" vibe doesn't throw you off, it's actually one of the most unique and interesting MMORPGs I've ever experienced. With no levels, and an organic martial-arts development system, it seems that China really is better at everything except making people look different from each other. Does that sound racist? Meet "Stereotype", my scholarly warrior of the orient.
First Impressions:
Immediately after the Jet Li splash screen, you're met with the character creation screen. Everyone I played with said that they changed their sex right off the bat assuming that the default male was in fact a female. He isn't. He's just Chinese. Once you've fiddled with an alarmingly complex and satisfying facial morphing tool and give yourself a name, you're all set to play. The graphics accomplish exactly what they're trying to, and the game plays very smoothly.
Once you actually start playing the game, you'll find that it's extremely difficult to get a handle on what exactly it is that you're supposed to "do", or why. This is partially due to strange translations, and partially because it's -NOT- a World of Warcraft clone. Grinding mobs doesn't really help you, and you have to allot which skills you improve over time. I've heard it equated to EvE Online in feudal China, and I don't disagree with this analogy. The big difference between Age of Wushu and EvE Online is that you spend much less time doing absolutely nothing in Age of Wushu.
Once you get your bearings, you'll choose one of the 8 available martial schools, and that will determine much of your initial combat effectiveness. Certain schools, such as beggar or Scholar, require prerequisite "life skills" or trade-skills to join, but for the most part it is a soft class system. The reason I say soft is because you can steal abilities by spying on other schools. Sound cool? It fucking is.
Become a Crouching Hero Drunken Hidden Dragon Master
I think that possibly the best aspect of this game is that they stay true to the fantasy China setting and build from there instead of the typical "start from WoW" method. This results in abilities to run up walls, fly, sprint across water, and lots of other crazy shit that you've seen Chow Yun Fat do. Your ability to fight is based on how you synergize the abilities you have, and the game doesn't hold your hand in this respect -AT ALL-. You will make bad decisions, and I think that's awesome.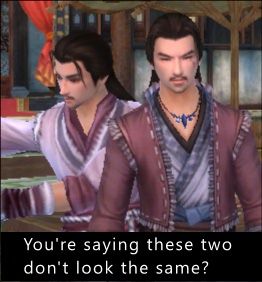 Real Gangsta Ass ****** Don't Sleep
When you log out of AoW, your character performs tasks based, I believe, on your life skills and location. When you haven't played for a while, you'll log in to what your character has been doing while you were away, and typically you'll get some cash, experience, or a recovery bonus. I'll update this review when I figure out exactly how that works, but this game is fucking confusing.
Open PvP
Prepare to get your ass kicked because Age of Wushu isn't for the faint of heart. You will be attacked in towns, in the wilderness, and even when you're logged out you remain in the world open to being kidnapped by players. There aren't really any tangible consequences to losing fights in the open, but if you player kill and get captured by a player bounyt-hunter, you'll get thrown in jail until you've cooled off.
Don't worry, you can break out.
Controlled PvP (UPDATE)
One of the most interesting PvP features in Age of Wushu is actually instanced. When players are running high level dungeons, the game randomly polls players to join the instance as enemies. That means that you have the opportunity to wreck someone's dungeon crawl, and they must conversely be able to fight players to PvE. Something about this concept tickles me to no end.
Trade Skills (Life Skills)
There are really a metric fuck-ton of Life Skills available, from Music to Painting, and from Begging to Mining you'll have your hands full if you enjoy craft. Some of the skills, like Music, provide group buffs if you're good at the guitar-hero type mini-game that's required to play ballads on your Qin.
Most of the best items in the game are crafted, but rest assured that most people don't have the heart to devote the time required to become a master of their craft. It's got what can only be described as a "China-Level" grind.
The Mini-Games
There are tons of copyright-infringing mini-games in AoW, spanning from a Bejewled knock off mining game to Guitar Hero and beyond. Even group training sessions reek of other things you've done before. Some of these are a welcome change of pace while you're meditating on skills or just killing time, but they're not really my cup of tea.
Breakdown:
(7) Successfully Chinese Looking
(6) Quirky and Unique
(9) Charmingly Confusing
(10) Nope
(8) Open or Voluntary Faction
(3) Risk on Attack-Side
(-1,000,000) Still Laughing About This One
Final Score: PROTIP: China Isn't Japan
BONUS VIDEO!
I found one thing that was probably funnier to me than it will be to you, but I recorded it and put it on my new YouTube channel. Enjoy.
You can sign up for Age of Wushu while it's in Beta at
http://www.ageofwushu.com