Friday, November 23, 2012 | 6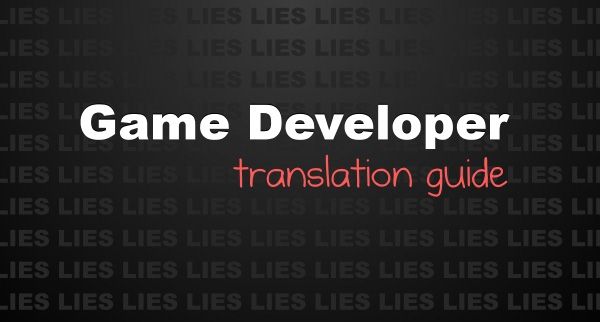 Sometimes game developers give mixed signals.
Although most of us at this point can sort through the bullshit, it's important to realize that literally every statement that comes out of a game developers mouth should be considered wishful thinking at best. I've compiled a guide to make it easier for those of you who are new to development cycles to understand what they really mean when giving development updates.
TRANSLATION GUIDE:
| Developer Quote | Translation |
| --- | --- |
| "Our game will be released 12-16-2012" | "Our game will be released 12-16-FUCKING NEVER" |
| "Our game will be released this summer." | "Our game will be released in the next three years, if ever." |
| "We're testing internally." | "Our game is extremely broken." |
| "Our game is a next-generation MMORPG." | "Our game is a clone of World of Warcraft." |
| "Combat in our MMORPG is more intense and fun than ever before!" | "We've replaced tab targeting with automatic targeting, making combat require less buttons than before!" |
| "We're focusing on storytelling." | "Our game is going to be really boring." |
| "This game is the spiritual predecessor to Ultima Online." | "Our game was designed for sociopaths." |
| "We're blending sandbox and theme-park features." | "We added meaningless choices to character development and large empty areas to explore." |
| "Everyone who has played the game really enjoys it!" | "We let our moms try the game out and they said that we're all very talented." |
| "We've taken all the good features from MMORPGs!" | "We copied games that are making money because we're greedy but uncreative." |
| "Our game is completely free to play!" | "Our definition of "play" is comically narrow." |
| "We kickstarted our project to make it better with crowd funding!" | "We're out of money because we're amateurs!" |
| "Death is permanent in our hardcore game!" | "Our game will never be released!" |
| "We haven't been able to reproduce or isolate this bug." | "We bought our engine and are literally incapable of supporting this game. Time to add horse urination!" |
Hopefully that helps. If you have other developer quotes you need translated, comment below and I'll add them to the table.