Monday, October 22, 2012 | 48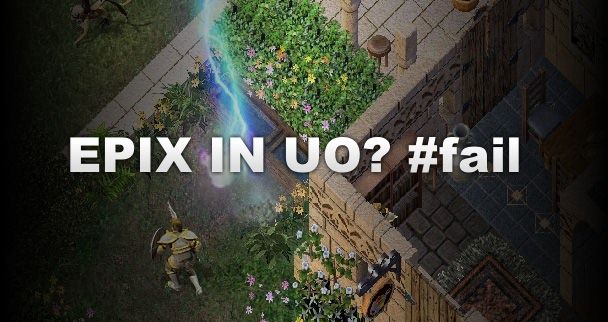 Assholes made me play UO again.
I fought urges to vomit, and signed up for the 14 day free trial on
UO.com
. I'm still not sure how I feel about the massive changes that took place since Trammel poisoned the well and I quit for the first time, but hyperbole aside, Ultima Online is probably still the best sandbox MMORPG. Now that all EvE players have rage-quit this article, let me explain how UO now is completely different than the UO that gave me a Matthews-esque thrill up my leg over a decade ago.
Japanese culture took a shit on Britannia.
The first noticeable difference (besides everything) that immediately punished my eyes was the amount of romanticized samurai cliche's that had invaded an otherwise historically Asian-free dimension. When Richard Garriott dies in a space-accident, he will then proceed to roll eternally in his grave for what they've done. Bushido? Yes. Ninjitsu? Yes. As terrible as it all is, these new skills, as misguided as they are, actually add a large new dimension to the game that up until I quit had fairly restrictive character options. I'll get to the skills later, but it's amusing to think of the meeting that led to adding this shit to the world of Ultima Online.
EA: "You should drum up more niche appeal! Any ideas?"
Sarcastic Drone: "Yeah, Anime was trendy 5 years ago, we should make an Anime zone and skills!"
EA: "Do it."
Sarcastic Drone: "Are you... I was..."
*The EA representative begins to rapidly consume 20 dollar bills*
More Skills, Same(ish) Caps
Regardless of perceived choices, power-gamers always realize that making a character that isn't perfect isn't really a choice. Back in the day, you had 3 or 4 plausible builds to choose from, and deviation would result in being stomped repeatedly into the ground. They've improved on this by adding additional skills and magery alternatives. The meta-game of building a character template and devising a strategy is a part that is missing from most MMORPGs. Talent trees don't count, and you're a fucking asshole for thinking it.
The Community
Ultima's community has always been a strong combination of very awesome and very horrible people. This differs from the Darkfall community that is comprised entirely of the latter. Upon creating a character, I was immediately bombarded by helpful people trying to tell me I was playing the game in a stupid/wrong way. That's always been part of Ultima because the game certainly isn't going to hold your hand.
1337 Epix and Item Insurance
Are you a pussy? No problem! Ultima Online now has powerful equipment and insurance so you can't lose your beloved fancy-shirt of fire. This is by far the worst thing that they added, and it kills the primary dynamic of risk/reward pvp. The saving grace is, players who murder you in Felucca get the money you spent on insuring your items. The profitably PvP, you pretty much have to kill people who are killing high-end stuff... but why wouldn't you just kill the stuff instead? Oh right, because it's fun to murder people...
Still Pretty Tame
Outside of Felucca, and even in Felucca, Ultima Online is still for Carebears. You can't kill or be killed until you soft-consent by entering an area that people can kill you. Don't worry though, the game will tell you before you get in too deep. In felucca, PvP is active and common because most of the largest rewards are therein.
Seige Perilous is Still Hardcore
Forget everything I just said. If you play on Seige Perilous, the world and its players will eat you, and your equipment alive. It has a very difficult point of entry, but it's worth a shot if you like games like DayZ and enjoy bashing your testicles repeatedly with a croquet mallet.
But It's Still Pretty Damn Fun!
Despite what this post might reflect, Ultima Online is at it's core a very unique and rewarding experience for any type of gamer. What alternative is there really? That's what I thought.
Breakdown:
(5) Isometric Throwback
(7) Sandboxy Goodness
(10) The Original Gangsta
(10) Predates WoW
(-5) Regional
(3) Money
(-1,000) Where is the Ultima Online I remember? Oh right... Gone forever...
Final Score: Better than whatever shit you're probably playing.