Thursday, June 7, 2012 | 7
Roleplaying is for 8 year olds.
As a matter of fact, most roleplayers are small children, but to them it is called "imagination". "Adult Roleplaying" can be defined as a non-athletic activity designated for the morbidly obese and/or avian boned basement troglodytes and (non-female)ponytail enthusiasts. Furries are roleplayers. On a social hierarchy, they'd probably sit somewhere between e-sports gamers and pedophiles.
But that has nothing to do with MMORPGs!
Right, but this concept contrasts starkly with MMORPGs that actually present you with all of the pieces so you don't have to pretend to be somewhere else. Both are harmless enough on their own, but when the perfect storm of roleplayers and a MMORPG converge, the result is a shameful display of virgin obesity.
The role of these losers is to absorb the contempt of literally every other player, while contributing nothing other than a tangible definition of the low-end of the totem pole. They get together with their "thou" and "thee" talk, and get stomped into the ground by any mid-range gamer with a good sense of humor.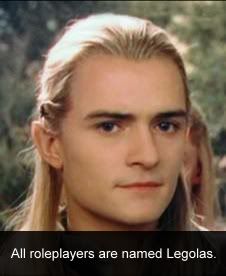 How to spot a Roleplayer
The easiest way to spot a Roleplayer is by name. While normal people name themselves thematic puns like Vietgnome, a roleplayer is guaranteed to have a lore-appropriate name... Like Legolas... It's safe to say that 85% of roleplayers are some derivation of "Legolas", such as "Lagoles" or "Legolos". If you ever see someone with a name that looks like Legolas, greet them with the customary RP greeting, "Sup pimp?"
This is not fool proof, however, because someone named Legolas could also be an 8 year old. You'll find that the way you deal with 8 year olds doesn't differ greatly from how you deal with roleplayers, as they are quite similar.
How to defeat a Roleplayer
That's easy. To beat him at the game, just run around erratically mashing your keyboard hot-keys. This will succeed because fat deposits prevent their fingers from fighting back.
To actually "defeat" a roleplayer, however, you must employ psychological warfare. This can typically be accomplished by coaxing them with something that looks roleplayish like, "Hail traveler", followed by something that immediately breaks their immersion.
"Hail traveler, I fucked your mom like 6 times, yo!" usually works.