Thursday, May 10, 2012 | 17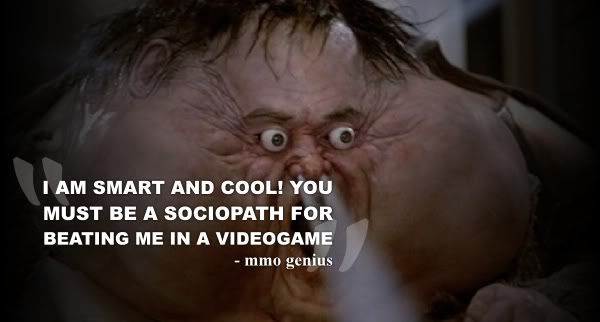 The book on sanity has been revised.
Fat people take their MMORPG playing way too seriously. This is a statement of fact evidenced by the comment section of every review I've ever done. This would be fine, but this new prototype of the "hardcore" gamer believes some things which are factually wrong. Let's correct them.
Misconception 1: Griefers are assholes in real life.

Wrong, fatso. People play videogames for fun, and well adjusted people play MMORPGs for the same reason. When someone kills you in a MMORPG, it is because that person enjoys the satisfaction of unscripted conflict. It's called competition, and it is extremely healthy and normal.

The one who is fucked up is you. If you ever feel like someone murdering you in a game is somehow adversely affecting your life, you need to reassess how much time you lurch over your desk every day. Games are games, and normal people can easily distinguish the line between a griefer and a serial killer. Grow a pair.

Misconception 2: Factions make my character safer from griefers.

Wrong again, pudge. A system where half, or more recently a third, of all players can't attack or be attacked by you is an open invitation for those people to find ways to annoy you without any possible retribution. Scammers, ninja-looters, and children can all easily ruin your gaming experience, and you can't do a damn thing about it.

A no-faction open PvP system allows for self-policing within games. If someone is behaving like an asshole, you're allowed to correct their behavior. This is what we call "street-justice". Get you some.

Misconception 3: The endgame justifies the grind.

Wrongo, you big lump of pudding. If a game forces you to do tedious busywork for hours, that game sucks, and you should be angry as hell. People are so jaded with MMORPGs now that they stick out for hours just because some sponsored reviewster tells them it will be worth it. Guess what! Those reviewers are paid for by the games they advertise.

When a pedestrian game like SWTOR has any success, it is because the unscrupulous hacks in the MMO review community have received money for writing a bullshit fluff piece. Apparently fooling a flock of mindless drones into buying the next WoW clone is quite easy if you have no soul. Demand more.
Some of you will be thinking...
Doesn't this all seem like common sense? Yes, to people with common sense, it does. Sadly, online gamers are generally behind that common-sense bell curve. If this impassioned plea for the MMO community to re-assess their foundation doesn't work, we could always try punching. Fat people are often susceptible to punching.
Oh, you may have noticed that I added a shitty forum to the site. Feel free to rage at me there, or leave a comment below.