Sunday, January 15, 2012 | 66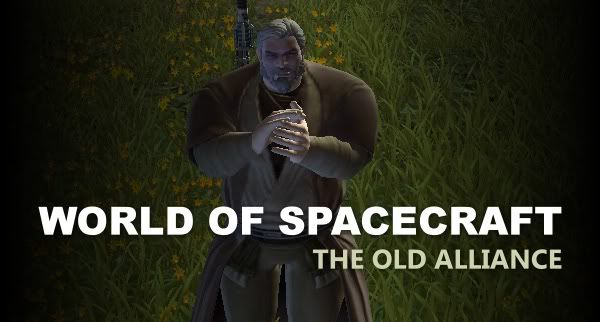 Have you ever had all of your suspicions confirmed?
Star Wars The Old Republic
has fortified all my doubts in big budget MMORPG development in a powerful and irreconcilable way. To say that it is simply a re-skinned version of World of Warcraft is somewhat insulting to Blizzard. I feel that this game has personally wounded me, and has set back the genre 15 years.
The easiest way to sort this review would be into the two categories, the "WOW-Clone" features and the "Original" features.
WOW Clone Features
UI, Control, and Feel
It becomes obvious that a large sum of money was dumped on this game by the great lengths they explored to avoid any part of the game feeling new. If you've played World of Warcraft, there is no learning curve here whatsoever in terms of game-play. Familiar isn't bad, but I didn't buy a WoW expansion...
The only real difference is that SWTOR's location integrity (characters being where they say they are) is actually far worse. This was notoriously bad in Warcraft, and the solution they employed was giving nearly everyone ranged abilities so you don't have to actually stand near your opponents. Apparently you can't throw money at bad code and make it good.
"PvP" Combat
Emphasis on the sarcastic quotation marks. SWTOR's PvP follows the post-vanilla WoW formula. PvP is mostly instanced (in extremely repetitive Warzones), and all World PvP is zerg ganking and res-killing. A few classes get decent knockbacks, and the World of Star Wars is largely cliff-centric. This is amusing for about 8 seconds.
You PvP to get PvP Gear which you use to PvP. It was obviously tacked on (like World of Warcraft), and they made no attempt to integrate it into the game on any non-shallow level.
The pacing of combat is mind-numbing. A fight with two dps-classes could last minutes, and it feels even slower than that. Because every class has either primary ranged attacks, charges, or pulls, there is no sense that you're picking your targets tactically because there are no tactics. Strategic cliffs are the only way to win, but most of the time your enemy isn't where they appear to be so you waste your knockback cooldown and shoot them to safety. Before any of you geniuses try and rationalize this, my ping is 30ms.
When your Warzone ends, you gain experience based on how your team did. Your team will always be full of the type of incompetent douche-bags that enjoy this game. Prepare for disappointment every time.
Instancing / Raiding
Anyone who believes in an open world understands why the thought of raiding makes me vomit in my own mouth. Although the instancing system appears different than World of Warcraft due to the huge number of cutscene conversations you're forced to have, it is largely the same, if not less worth-while. Having a 5 minute conversation after every pull doesn't yield experience, so if your goal is to level up, you're better off doing anything else.
There is typically an instance for every level range along the way, but they're largely disjointed and uninteresting. This, again, wouldn't matter if you weren't forced to have a time-out every 5 minutes to tell a hologram why you think they deserve to die.
Graphics and Immersion
Yes, graphics go in the "WoW Clone" section. If you've seen the game, you should understand that the approach they took was much like Blizzard's. Essentially they designed the game to age well by emphasizing style over technology. The textures appear to render in waves, gradually scaling up every time you load an area. I wouldn't consider graphics to be an incredibly important component to a game's fun-factor, but nothing breaks immersion like having a chat with a faceless low-res model whose face phases in after a few seconds of talking. Common sense people!
Character Creation and Customization
The character creation is very true to the industry standard. You pick your class and race (which have some irrelevant restrictions), and you pick what stupid plastic haircut you want to stare at for 200 hours. The only improvement is that you can make your character fat. Finally!
Unlike Warcraft where you select your race based on abilities that could benefit your character, SWTOR only has useless social emotes for the various races. This was almost insulting to my intelligence that they list the commands at all.
Republic and Empire have mirrored classes with the exception of the class story which is either a hippie love fest, or a serial killer's manifesto respectively. I'll get to this later.
Original Features
Crew and Crafting
This aspect of the game is mildly amusing until you realize what's actually happening. Your crew, for people unfamiliar with the KotOR franchise, is comprised entirely of whiny dipshits who hate when you have fun. They are somewhat customizable, and you can equip them with gear if you feel like you're not spending enough money on yourself.
You can have one follow you around (or rather, you'll be shitty if you don't), and you can assign others to run crafting errands between 3 crew skills you choose around level 10. It costs an exponentially increasing amount of money to have them run errands as you progress in skill. In essense, you're almost exclusively paying money to gain skill points, and the items you can make once you've dumped your money down the drain are seldom an improvement from the items you got with the quests that gave you the money in the first place.
I suppose they decided that players should never have money to train, so they tempt them with the laziest progression system to date. Occasionally when you're not an asshole to your crew they'll have conversations with you that yield experience, but the gifts you give them come from crew runs that you paid them to go on. I understand that the idea of buying friends might be commonplace with the trolls at EA and Bioware, but what lesson is that really teaching.
Either way, crew members in combat are basically hunter-pets from Warcraft, so that could be in the clone section as well... But hell, I'm feeling generous.
Class-Specific Story and Voice Acting
Have you ever played a MMORPG and thought, "Man! I hope they take my freedom away and force me to walk in a straight line until I've resolved the primary plot objectives!" No? Me either. Age of Conan attempted to do this, and people pointed out that it isn't very immersive that every person on earth is an escaped slave from the same ship. Having 8 different ships doesn't really diffuse the problem by a factor of 8.
MMORPGs used to have "carving out your own place in the world" as a primary requirement. What we're seeing now is the dismantling of free-will as we know it. The beauty of playing a game with other real people is that your experience can be unpredictable and spontaneous, but Bioware decided that in order for the game to fit into their traditional narrative, it had to essentially be a single-player RPG with about 20 times more grinding. Great idea, dumb!
The voice acting is laughable. If you attempt to follow the game's story, mostly everyone just turns on subtitles and skips through it as quickly as they can read. If you're a very slow reader, this game is probably fun to you, but you probably didn't make it this far into the review anyhow... moron...
The one saving grace was that the Whataburger guy actually has a voice role on Tatooine. Just like you like it.
Star Fox Minigame
Space combat is a single-player space rail-shooter that is a near-perfect emulation of classic Star Fox for SNES. I was excited to be able to play this for experience as the game itself was far too boring. Needless to say, running the same 2 level appropriate missions repeatedly killed this sentiment.
This is another 'duh' moment for this game. Why would you add more single-player aspects to a MMORPG? Did anyone really love the rail-shooting in KotOR? No, they didnt. Shame!
Dark Side / Light Side / Pointless
One of the best things about KotOR, and one of the worst things about SWTOR is the moral choice system. In Knights of the Old Republic, you chose to be good or evil, and your powers were largely dependent on your force-tendency. It was an integral part of the game, and committing genocide to make your force lightning more powerful was excellent.
In SWTOR, they go out of their way to make sure that good and evil are a purely cosmetic decision. If you're evil, you wear clown-makeup, and if you're good, you hate having fun. The only reward for consistently choosing the "threaten a child" option was social gear and glowing eyes. Why bother? Why have conversation options at all if your game is wildly unchanged by every decision you make. The entire premise of the game is bad in this respect.
A conversation at Bioware headquarters probably went something like this :
Bioware Project Lead : "We have big plans for implementing force corruption in a MMORPG format!"
EA Executive : "Good! Make sure it doesn't actually do anything! Why is your eye bleeding?"

Linear Everything!
Just in case you felt like World of Warcraft had too many similarly difficult areas, worry not! In Star Wars, you only have one path, and you must follow it because choice is bad! In this respect, they very much follow the Rift formula. Is that game dead yet?
Man, I feel a lot better...
Breakdown:
(2) Comfortably Dull
(-10) Uniquely Unoriginal
(-10) Clone City
(-10) Yes
(-10) WoW Model
(-10) No Risk
(-10,000) So Much, So Bad!
Final Score: Potato