Tuesday, November 1, 2011 | 8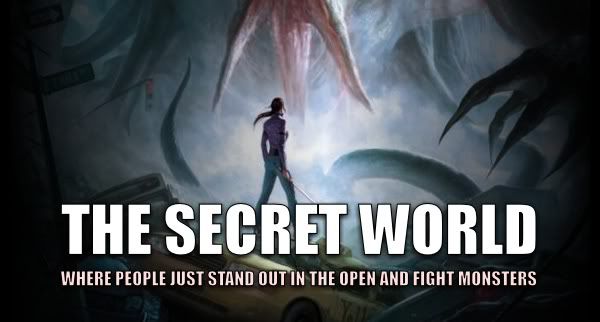 Funcom makes me laugh.
Have you ever met someone who is filled to the brim with excellent concepts and ideas, but upon investigation you find out that you misunderstood and their ideas were either terrible or just executed terribly? Of course you have. They're all around us, and MMORPG bureaucracy are the worst.
A little history lesson...
Funcom's emergence into the MMORPG domain was in 2001 with a jewel called Anarchy Online which at the time was a welcome change of pace from the UO, EQ decision. Aside from being released in an incredibly buggy state, the main reason it never took of on a mainstream level was ultimately due to my favorite thing about the game. The leveling system was incredibly complex.
So, a game with huge upside and massive depth fell by the wayside due to the relative ease of mastery its competitors offered. Sad. This event really traumatized Funcom, and it paved the way for Age of Conan.
Conan With Kid Gloves
See, Age of Conan had big ideas as well, but those ideas were ultimately muted by a combination of factors. The first initiative Funcom took when child-proofing AoC was to be as transparent as possible to the community about their project. This led to a large amount of hype and user feedback, which is often as toxic as it is helpful.
This new form of crowd-sourced feedback seemed like a good idea, but from this the
vocal minority
sprang forth to destroy and annoy in equal parts! See, by allowing Care Bears to become involved in the direction the game was moving, they trashed their exciting new features in lieu of tired WoW mechanics and boobs... So many boobs...
Age of Conan's teeth were removed before release, and none of the 'cool' stuff we were looking forward to was included. A hostile world where fighting is eerily similar to Guitar Hero? No thanks.
An EXTREMELY Secret World...
A name as ironic as it is apt, The Secret World is making a very deliberate attempt to not release any vital details other than what is very generic and cookie-cutter for the genre. I find myself both intrigued and disgusted by how vanilla it all seems. Here is the feature breakdown:
Your Character Will Look Neat
The Secret World takes the City of Heroes/City of Villains/Champions Online/All Super-Hero Games approach to character customization because the premise is there, and balancing mechanics for multiple variables is too difficult.
Generic.
There Will Be Factions
Just in case your individual moral compass is askew, The Secret World tells you who you're supposed to hate and encourages competition with them.
Generic.
Targeting System? Tab, of course!
For those of you with neurological disorders, fear not! The Secret World will not allow those who have a better link between their eyes and hands to take advantage of you.
Generic.
Character Advancement: Skill System
While technically the oldest MMORPG advancement system, I assign credit here because the genre has become oversaturated with level-grinding theme park MMORPGs, and skill systems typically benefit people who enjoy thinking about their progression and using creativity.
Not Generic!
Story Bullshit? Plenty!
I'm not exactly an advocate of the seemingly unavoidable merger of RPG and MMORPG into an equitable super-genre because I'd like to think that the benefit of playing a MMORPG is that everyone tends to develop their own story as they play. Sadly, we've been slowly marching down the personal narrative road for so long that I don't think anyone noticed. (Age of Conan begat Star Wars - The Old Republic?)
Wash.
There REALLY isn't anything else to critique!
I don't consider faction back-stories to be features, so I'm forced to draw my own conclusions here. Either Funcom doesn't want to divulge any information about this game that makes it unique, or
THERE IS ABSOLUTELY NOTHING UNIQUE OR INTERESTING ABOUT THIS GAME AT ALL
. I hope it is the former, but I have serious doubts after Age of Conan that anyone at Funcom is interested in doing something new or unique.
I won't be commenting on the OBVIOUS racial stereotyping in this game.