Tuesday, September 13, 2011 | 32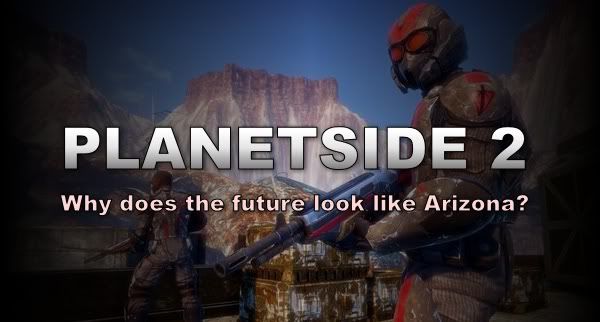 I'm not sold on MMO-FPS as a sustainable genre.
There has been a lot of hype recently about the second coming of what can only be described as a complete and utter failure. Planetside was a game that had a lot of flashy ideas in a time where flashy ideas weren't technically plausible due to hardware constraints.
Well they're back from the past to remake a game that was progressive 8 years ago. It is probably safe to assume that they'll bring the same level of creativity and boundary pushing to a landscape completely saturated with largely multiplayer first-person shooters.
Nope.
They appear to have taken their original formula of packing thousands of players in a battle shoulder to shoulder colonial warfare style and added what everyone always wanted:
Tedious superficial Halo-Style customizations and upgrades!
On top of that, they boast that it is "100% PVP and 100% open world combat", but to me that resonates that they made half a game, and made their battlegrounds one-hundred times larger. We all know how I feel about
Battlegrounds
.
But it is Free to Play! Strike two.
I don't want to sound like a one trick pony, but I can't emphasize enough how the F2P model spits in the face of fair play and common sense. Specifically for this game there are a few truths that must be acknowledged prior to establishing a business model.
First-Person Shooters can only be fun if the exchange of data between clients and servers is instant and accurate. This means that unlike a traditional MMORPG that cut corners on character location and updates (cough WOW cough) a MMOFPS has to ensure that the shooter and the victim both register their location, speed, and direction identically or you have a broken game. That means expensive servers doing calculations and bandwidth out the ass.
You also have to entertain the idea that they claim thousands of individuals can participate in the same fight. That implies that they have the infrastructure to transfer data to and from everyone about everyone at the same time. Expensive.
The idea that they could run this as a F2P without providing high-impact and balance destroying items to purchase is impossible. Therefore it will either be pay-to-win or they will shift it to a monthly cost.
Theory aside, why not just play Halo?
Do we have any reason to believe that the engine and mechanics of the game will be sound and competitive with any similar products? Valve, EA, and even Microsoft have the history to support their ability to make an action-packed shooter. SOE? Planetside was about as action packed as a turtle-fight.
I hope that I'm wrong, but historically I wouldn't bet on it.