Friday, August 26, 2011 | 69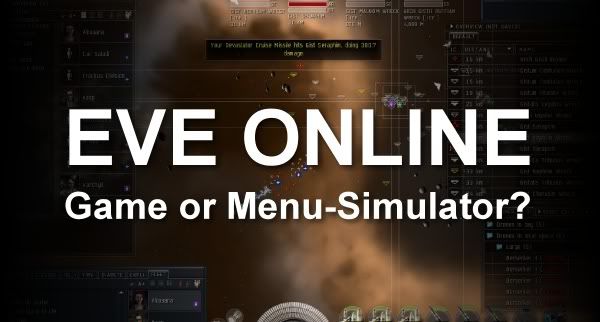 I have downloaded Eve Online five times
If Eve Online is the answer for sandbox MMORPGs, the question must have been, "how can we make a game for people who don't actually want to play the game?". In this respect it is immensely successful. On paper, Eve Online seems like an amazing step forward in sandbox multiplayer games up until the point that you figure out that
it isn't really even a game at all
.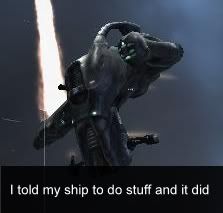 Eve Online is a spectator's MMORPG
If you look objectively at what you're doing when you play Eve Online, you will notice that you aren't actually directly in control of any actions you're taking. You select from an endless array of incomprehensible menus and tell the game to play while you watch.
This is the rough equivalent of dictating orders to someone playing X-Wing vs Tie Fighter for hours and never being allowed to touch the controller. Not only that, but if you decide that you're bored of watching your best friend hog the joystick and you walk away, the game seems to reward you, knowing that you're having a terrible time.
So how do they retain subscriptions?
Simple. The system is designed around one idea: account creation date dictates success. This ensures that the only way for an individual to be competitive is by essentially paying money to not play for years, only to still lag behind people who have not played for more years than you.
I'd make a comparative metaphor about this business model if one had ever existed in parallel in any industry ever, but I am honestly at a loss.
My only assumption is that Eve's subscribers are in fact so terrible at traditional MMORPGs that they have to play a game that simulates letting their more capable friend play for them. There simply is no better explanation for the success of this game.
Character creation? Really? Really?
Really?
Really?
If you can't tell, I hated this game more than any sandbox MMORPG I've ever played, and it basically ruined the 'Sci-Fi Outer Space' genre for me. I guess everyone is welcome to their own opinion about this game, but if you like it you are probably autistic or something.
Breakdown:
(-10) Infinite Space (skyboxes)
(-10) Like playing with a calculator
(+10) Pretty Original
(+10) No
(+10) FFA
(+10) Loot
(-100,000) Menu Diarrhea
Final Score: Almost as fun as staring at dirt..