Tuesday, April 26, 2011 | 9
By now, you probably already know how I feel about MMORPG pretenders like Guild Wars, but supposedly Guild Wars 2 is going to legitimately be massively multiplayer! I have very serious doubts, but lets review the list of shallow promises from a publisher with zero credibility...
"No guys, seriously, we're actually making a real MMORPG" - NCSoft CEO Willy Tompkins
Okay, that wasn't real, but my biggest question is why they would take the Square/Enix (dumb) approach and create a MMORPG as a sequel to a game that isn't one. It is almost as if they don't realize that Guild Wars at best was simply a multiplayer dungeon crawler. If you don't know what I'm talking about, read
this article
.
Without further adieu:
Prior to extensively researching the hype behind Guild Wars 2: Judgement Day, I reviewed the extensive MMORPG portfolio that NCSoft is so proud of.
Lets review:
1.
Lineage
- A boring MMORPG before people really knew how boring MMORPGs could be
2.
Lineage 2
- Click-to-move abortion pandering to Animephiles. Generally terrible
3.
Guild Wars
- Not actually a MMORPG
4.
City of Heroes
- A 12 year old's wet dream simulator. A testament to shallow content
5.
Aion
- Prototypical boring Korean grind-fest with wings
So why wouldn't Guild Wars 2 be great? Typically it takes 5 games with decent budgets and long development cycles before you make something playable, right? I suppose it isn't fair that I haven't mentioned anything about the game yet. Lets move on.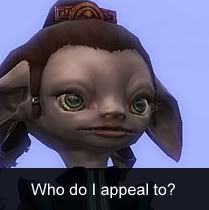 From the FAQ:
I'm not entirely convinced that NCSoft knows what a MMORPG is. This is directly copied from the faq on their website:
Q: Will Guild Wars 2 be an MMO?
A: Yes. Guild Wars 2 provides a massive, online persistent world.
Q: That isn't what I asked, dipshit!
Being massively multiplayer has absolutely nothing to do with the size of the world, idiots. It hurts me to think that they might be attempting to pull the same type of misinformation that they marketed Guild Wars with. I sure hope I don't see any more evidence to support this...
Q: Will there be a subscription fee for Guild Wars 2?
A: Nope. Like the original Guild Wars, there will be no subscription fee for Guild Wars 2. You just buy the game and play it online without paying a monthly fee.
Guess what! Guild Wars 2 will have a cash shop! If you don't know what I think about the F2P model, take a gander at
this article
.
But wait! You haven't talked about the game yet!
That is because I don't actually know anything about it aside from bullshit apple-hype.
Supposedly the Guild Wars 2
unique design
contains dynamic world-objectives that temporarily affect the world in sub-profound ways. That sounds an awful lot like Warhammer's world objectives, and Rift's rifts. As I recall, both of those
unique features
didn't actually add any measurable value to your experience other than giving you a new way to grind in an immeasurably linear gaming experience.
To close, the Guild Wars 2 FAQ only contains 15 questions, and one of the questions is if there will be guns in the game... Guild Wars 2 is going to suck.
If you think you have more information than I do, or you just plain disagree, I don't moderate the comment section...