Thursday, April 14, 2011 | 22
Online social networking is a huge part of our culture now whether we like it or not. One of the main draws of online gaming is certainly the social aspect of it, but it also provides you an opportunity to redefine yourself to a group that doesn't have preconceptions about you.
Just like in real life, there are no original people on the internet. That is why I've created a new feature called, "MMORPG Personality". I will be systematically breaking down each prototypical MMORPG player into easily measurable categories. Lets start with the most poignant.
Oh, the fabled goddesses of the inter-web... I'm not going to go so far as to say that all women in the real world are so easily defined, but for all intents and purposes there are only two types of MMORPG women.
Type 1: Men
First, let me clarify: Not all men masquerade as women in attempts to fool unsuspecting passers by to perform lewd sex fantasies with them. Some people merely see the concept of being treated like twisted royalty alluring. Just like in real life, female characters in MMORPGs have all their needs fulfilled by various desperate men.
Don't get the wrong impression because eventually all shemale pretenders end up taking it further than they originally ever intended for monetary compensation. The worst thing about some women in MMORPGs being men is that MOST women in MMORPGs are men. As for those that aren't, we have another charming and not-at-all offensive category.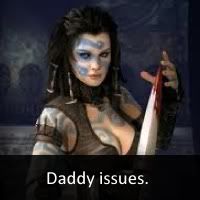 Type 2: Emotionally Disturbed
You've seen this type before. A woman who loves to play video games? Sounds perfect, right? No. Men and women are very different creatures, so when a woman starts doing things that a man almost exclusively enjoys, it sets off an alarm in the back of my mind.
The queen of the local arcade is the master (or mistress) of nerds, but sadly those crazy outbursts of violence, profanity, nudity, or general indecency aren't isolated incidents. You're dealing with a broken human being. Tread carefully around this beast, or you could end up splattered on the business end of a retro-chic Volvo station wagon. Many men have tried to tame this dragon, but few have been able to tolerate the flames.
I suppose there could be the third type: girls who play games because their boyfriends destroyed their self esteem, but that would be too depressing to drone about.
Until next time, leave me some comments about how amazingly right I am.